Iconic New York City is a highly coveted destination with endless entertainment, culture, and culinary opportunities to delight groups of all types. Composed of five well-known, attraction-filled boroughs (Bronx, Brooklyn, Manhattan, Queens, and Staten Island), it would take a lifetime to discover all the treasures the city has to offer. The most sought-after attractions for travelers are located in Manhattan making hotels in this borough highly desirable for group travelers wanting to be in the middle of all the action. In addition to great architecture, trendy hotels, Broadway shows, hundreds of museums, and many historical sites, the city is also known as an epicenter for business and fashion. Groups heading to New York City are in for a treat; The Big Apple is like no other destination and it would take a lifetime to fully explore it. Student groups, corporate groups, international groups, and those heading to NYC as part of a corporate incentive travel program are guaranteed to find just the right thing to make their trip memorable. A well planned trip to New York City is something your group will not soon forget.
Best New York Hotels for Groups
New York City has hundreds of hotels to fit every budget and travel style. Finding just the right hotel for your group is possible with a little expert insight and a good understanding of the specific needs for your group. At Groople, we have carefully vetted many New York City hotels and have the insider info needed to help those tasked with planning group travel get hold of the best hotel deals for groups in NYC. If you are in the planning stages of your next group trip to New York City, then consider these hotels as potential lodging for your group.
Located in Midtown Manhattan, the Salisbury Hotel is ideal for group travelers, particularly those comprised of young people. This hotel is one of the few in the city to offer ample square footage and many suite-style rooms that connect. With prior arrangement, the Salisbury can cater breakfast for your group.  The Salisbury's central location makes it a prime choice for groups wanting to visit New York City's top museums. (Check out Groople's list of best New York City museums that you can visit for free.)
The newly renovated Park Central Hotel is a historic landmark and a great choice for corporate groups heading to New York. If your group is planning on welcoming the New Year in the city, Park Central offers guestrooms with a view of Times Square. These highly coveted rooms are a true asset. The communal tables at Park Kitchen are ideal for large groups wanting to enjoy New American cuisine on location.
Hampton Inn Manhattan-Times Square South
If your group is looking for tremendous value not frequently found in New York City, the Hampton Inn Manhattan-Times Square South is a great option. This hotel does not compromise when it comes to quality and comfort. Highly rated and highly coveted for their prime location, the Hampton Inn will make your group feel at home. As one of the very few New York City properties to offer a complimentary breakfast, the Hampton can help your group get more for your money so you can focus on having fun and sightseeing.
Group Savings in New York City: Tips and Tricks
New York City has so many things to see, making it especially difficult for groups on a budget to plan and allocate funds to do and visit the most places without breaking the bank. With a little planning, you can make your group dollars go further and still experience everything the city has to offer. If your trip to Manhattan includes a play or musical, there are two ways to go about securing the best possible ticket prices. First, you can take advantage of the discounted tickets offered by TDF, generally 15 percent to 30 percent off. If that is still too steep for your group, then consider waiting until the last minute and purchasing standing-only or rush tickets, available at the box office only a few hours prior to the play. These tickets may require a student ID and are best for groups of younger people. If you are looking to save on museums, our list of cheap or free museums can give you a great head start. Another great way to save while visiting New York City is by checking the Free in NYC list, which is updated frequently and offers visitors fantastic opportunities for education and leisure at no cost.
Best Times to Travel to NYC
Any time is a great time to visit this city. If your group is looking for a deal on hotels and you don't mind cooler temperatures, the best hotel deals are found in January and February. If budget is not a consideration and your group just wants to enjoy the best that this walking city has to offer, September to November offer the best weather to enjoy outdoor activities in Manhattan.  Central Park is idyllic for a group walk, presenting numerous opportunities for urban photography and plenty of things to do. Many group travelers prefer to visit the city around the time of an important event such as the Macy's Thanksgiving Parade or the New Year celebrations in Times Square. If your group is planning to join the locals during peak season, then let Groople help you secure the best possible group rates in advance.
Getting to and Around in NYC for Groups
The two best and most popular ways to get to New York City are by plane and train. Driving a car or taking a bus in the city can be hectic and costly when it comes to parking space. There are three main airports that put group travelers close enough to the city while offering great fares and a variety of flight schedules: JFK, La Guardia, and Newark in New Jersey. Once you are in the city, your group can take advantage of the highly sophisticated public transportation available to all. The subway and bus routes are affordable, safe, and convenient. For sightseeing, consider purchasing group tickets for the hop-on, hop-off double-decker buses. These buses take tourists to the most important landmarks, allowing them unlimited on-and-off boarding privileges for the duration of their tickets. Cabs can be costly and should generally be avoided if your group is traveling on a budget.
Group Dining in New York City
With almost 50,000 different dining venues ranging from hole-in-the-wall to the most highly rated restaurants in the world, New York City has something for every palate and budget. One of the challenges of dining with a group is finding settings that allow for the group to sit together. Consider taking advantage of cafes inside museums that often offer significant sitting capacity for large groups. You can also take advantage of OpenTable, a website that allows you to make dining reservations for large groups. If you are traveling with a group of young people, then consider going casual and enjoying a brown-bag lunch at Central Park. We can help you coordinate brown-bag catering with your hotel.
Best New York City Activities for Groups
The opportunities and venues for group fun in New York City are endless. Consider a tour to Ellis Island, and book in advance to ensure there are enough spaces for your group. Plan your trip to maximize free days at local museums, and consider hiring a guide to host a walking architectural tour of the city. Consider visiting less traditional areas such as the Bronx, and take advantage of the many multicultural culinary experiences available to your group.
Top Things to Do/See in New York City
Visit the Statue of Liberty and Ellis Island
Visit the Metropolitan Museum of Art
See a Broadway Show
Visit the Empire State Building
Visit Central Park
See the Times Square Area
Visit the Intrepid Sea, Air & Space Museum
Visit the Guggenheim Museum
Visit the site of the World Trade Center
Visit the 9/11 Memorial Place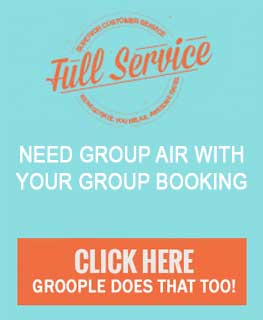 Yearly Weather Averages
| MONTH | HIGH | LOW |
| --- | --- | --- |
| January | 38 | 23 |
| February | 40 | 24 |
| March | 48 | 32 |
| April | 58 | 42 |
| May | 68 | 53 |
| June | 77 | 63 |
| July | 82 | 68 |
| August | 81 | 66 |
| September | 74 | 58 |
| October | 63 | 47 |
| November | 52 | 38 |
| December | 42 | 28 |