Located in the heart of Central Florida, Orlando is a highly coveted destination for groups, and it is the theme park capital of the world. As one of the most visited cities in the United States, Orlando has worked hard at creating a traveler-friendly environment that welcomes more than 51 million tourists every year. Mild sub-tropical weather set the stage for year-round outdoor fun for group travelers.  In addition to the most well-known amusement parks like Disney World®, Universal Studios Florida and Epcot  Orlando is home to popular golf resorts and endless shopping opportunities. As an outlet shopping Mecca Orlando is particularly sought by international groups looking for the latest in American fashion and technology. The Greater Orlando metropolitan area, comprised mainly of the cities of Kissimmee, Orlando, and Sanford, has grown extensively and provides visitors with tremendous opportunities for leisure and business. Church groups, youth groups, college groups, fraternities and cruise groups who have booked extra days prior to sailing from a Florida port will enjoy all that Orlando has to offer.
Best Orlando Hotels for Groups
The Greater Orlando metropolitan area is home to hundreds of excellent lodging options for groups. Many of the hotels in close proximity to theme parks such as Disney World and Universal Studios have designed their amenities to best cater to groups and families, and provide a great deal of value. The Groople team can help groups of any size find the perfect Orlando accommodation and negotiate a package that exceeds the expectations of your group. Among Groople's favorite Orlando hotels for groups, we have selected the following as our best picks:
Wyndham Lake Buena Vista Resort
The Wyndham Lake Buena Vista Resort offers groups one of the best locations possible in the Orlando area. The resort sits right across the street from the Downtown Disney area. With over 600 guestrooms, The Wyndham Lake Buena Vista Resort can accommodate groups of any size, and it offers many group-friendly amenities not available at smaller hotels.
For those traveling with a youth group hoping to enjoy the rides and thrills of Universal Studios, Florida, there is no better hotel than the Rosen Inn. The property sits in close proximity to Universal Studios and Wet 'n Wild water park, and it is within walking distance to the many restaurants and shopping opportunities available on International Drive. The Rosen Inn can offer tremendous value to church groups heading to Orlando to enjoy the Holy Land Experience.
La Quinta Inn Orlando Universal Studios
If your group is traveling with kids, then you may want the value of a hotel that offers extra perks such as free breakfast. La Quinta Inn Orlando Universal Studios is always an outstanding value, allowing your group significant flexibility with conveniences like free parking and a large outdoor swimming pool. Just half a mile from Universal Studios and within a short drive of many of Orlando's attractions, La Quinta Inn Universal Studios is a property to consider when planning your group trip to Orlando.
Group Savings in Orlando: Tips and Tricks
With so many theme parks to enjoy, making the most of your group dollars is a huge priority when planning your trip to Orlando. If your group has little ones and you are heading to Disneyworld, then consider purchasing princess costumes prior to arriving to the park. This will save you significant money, freeing up your funds to do what matters most: having fun with your group. A great way to save money when heading to Disney theme parks is by bringing your own food. The parks allow you to bring your own food as long as it does not require heating or is stored in glass containers.
Best Times to Travel to Orlando
For the smallest crowds and best rates, consider traveling the week after Spring Break, or during late September and all of October. There is a good chance that your group may experience a brief thunderstorm or two, but otherwise expect sunshine and mild weather. This is also a great time to head to the theme parks and be able to enjoy the rides sooner due to extra-short lines. Summer months can be very busy and costly for expenses such as hotels.
Getting to and Around in Orlando for Groups
Orlando is very accessible by air and land. Many groups book charter buses and head to Florida from locations as far as New York City. McCoy International Airport in Orlando is rated as one of the best in the nation, and it services many low-cost airlines. If securing a good airfare to Orlando proves difficult, then group travelers can opt for alternative airports such as Tampa. If your group is visiting theme parks, then consider having your chartered transportation drop you off at one of the Disney resorts. You can then take advantage of internal transportation to get to the parks. If your group plans to drive around Central Florida, then allow budget for tolls. This is especially important if your group wishes to go to Cocoa Beach, the closest beach destination to Orlando.
Most of the restaurants in Orlando are family and group oriented. To save money and give everyone in your group dining options to match their personal preferences, consider dining in food courts. Florida Mall, Universal Studios, and Mall at the Millenia are your best bets. If you have kids in your group and are hoping to enjoy a breakfast with Disney characters, then make your reservation in advance to make sure everyone in your group sits together.
Best Orlando Activities for Groups
The theme parks are a must-visit for almost any group. In addition, you can make a day of a trip to the beach and Kennedy Space Center. This will add variety to your group experience and save you money as far as overall cost.
Another popular option and one you don't want to miss is the Holy Land Experience. If your church group wants to learn more about historical and archeological facts related to the Bible without having to travel across the ocean, then this attraction will not disappoint. Your group will enjoy reenactments of the Passion of the Christ, marketplaces mimicking Jerusalem, and many other biblically themed displays. For international groups, you may want to set aside a couple of days dedicated to shopping at the local outlets. The variety and value will certainly make it worth it.
Our group travel professionals at Groople are ready to create your customized hotel quote. Let's team up and give your group a time to remember.
Let your Groople group travel team work with you to book great group hotels at great rates.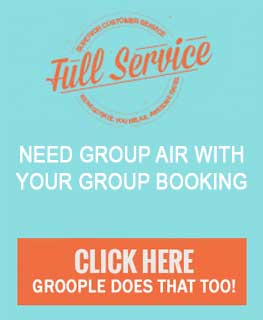 Top Things to Do/See in Orlando
Visit Universal Studios Florida
Visit SeaWorld Orlando
Visit Disney's Hollywood Studios
Visit Disney's Animal Kingdom
Visit Aquatica
Visit the Holy Land Experience
Tour the Kennedy Space Center Visitor Complex
Visit Discovery Cove Orlando
Shop and Dine at Universal City Walk
Visit the ESPN Wide World of Sports Complex
Yearly Weather Averages
| MONTH | HIGH | LOW |
| --- | --- | --- |
| January | 71 | 49 |
| February | 74 | 52 |
| March | 78 | 56 |
| April | 83 | 60 |
| May | 88 | 66 |
| June | 91 | 72 |
| July | 92 | 74 |
| August | 92 | 74 |
| September | 90 | 73 |
| October | 85 | 66 |
| November | 79 | 59 |
| December | 73 | 52 |