Washington, DC, is without a doubt one of the most popular bucket-list items for student groups from elementary all the way to college age. Those traveling to DC will find endless attractions available to travelers at little or no cost. Home to some of the most coveted museums and historical sites, Washington, DC, will not disappoint. Groups heading to DC will want to visit iconic monuments in the National Mall, and hit the Smithsonian to appreciate some of the best natural and scientific collections available for viewing anywhere in the world. Groups with children cannot miss the National Zoo and The Albert Einstein Planetarium. In addition to excellent educational opportunities, DC is also home to numerous business, civic, and corporate events, drawing groups from all over the nation. Washington, DC, remains busy year-round, making advanced trip planning essential to secure the best possible rates. Smart group planners should take into account city-wide events before deciding on dates when trying to secure the best hotel, transportation and attraction rates.
Best DC Hotels for Groups
When it comes to selecting a great group hotel in DC, it is all about location. Chances are your group will want to be within walking distance to public transportation. Picking a well-located hotel becomes especially important during the colder months of winter, when your group might just want to enjoy indoor attractions without the stress of facing the elements. There are hundreds of hotels in the DC area, but some stand out for their ability to cater to groups of any size. The following Groople partners have consistently delivered superior customer service, with special attention to the needs of group travelers.
Hampton Inn Washington Downtown Convention Center
If your group is in DC to attend a large event at the Walter E. Washington Convention Center, the Hampton Inn is without a doubt a smart choice. In the heart of downtown and surrounded by many dining and shopping opportunities, the Hampton Inn makes for an excellent base for all your planned group activities. The Hampton Inn offers significant value to group travelers, with extra perks such as free, hot breakfast and free WiFi for groups visiting DC for business reasons.
The Metro Points Hotel is a great value for groups wishing to stay away from the busyness of the city, while still having great access to everything that DC has to offer. Just one mile away from the New Carrollton Metrorail Station, and offering complimentary shuttle to and from the center, the Metro Points Hotel will make stays extra convenient. The hotel offers free bus parking, making it ideal for student groups on a budget.
Doubletree by Hilton Washington DC
If you are in search of the perfect location for your corporate group, the Doubletree by Hilton Washington, DC, has everything needed to cater to the most demanding of groups. Comfortable and modern rooms are paired with a great location right in the heart of Dupont Circle, and just three miles from the Ronald Reagan National Airport. The Doubletree is home to the 15 Ria restaurant, a location well known for an extensive wine list and superior New American cuisine.
Group Savings in DC: Tips and Tricks
It is tempting to think that DC will be pricey, regardless of your group's budget, but we have good news for you. All of the historical government buildings and monuments are absolutely free of cost. In addition to government buildings, access to any of the Smithsonian museums is free; albeit long lines can often impact how soon your group will get to enjoy the exhibits. Dining on a dime without sacrificing quality is just a matter of smart planning. Luckily for us, Washington, DC, is home to several colleges and universities, which always results in great digs for dining that won't break the bank.  If your group is visiting Washington, DC, during the winter, then plan to dress for the season. It is not uncommon for visitors to end up buying full-price, last-minute scarves, mittens, and hats to deal with frigid temperatures.
Best Times to Travel to DC
There is no better time to visit Washington, DC, than during the Cherry Blossom blooming. There are several hot spots for Cherry Blossom displays, aside from the National Mall. Plan your trip for early to mid-April, and prepare to allocate a significant portion of your budget to lodging. For the most affordable hotel rooms and least crowds, consider late August to Early September. The Christmas holidays can be quite cramped with families heading into the city for shopping and to admire the holiday lights display.
Getting to and Around DC for Groups
Washington, DC, is serviced by two airports, Dulles and Reagan. Groups traveling to DC won't have a difficult time finding a price and schedule that works with their budget. In addition to air travel, DC is easily accessible via train if your group is coming from a Northeast location. If you are traveling via charter bus and need parking, then consider booking a hotel outside the city limits and in close proximity to a metro station.  Speaking of the metro, consider getting a SmarTrip card for either unlimited metro or bus travel within DC. Finally, DC is a great city for walking. If the weather is nice enough, get hold of a pedestrian map and enjoy the sights and sounds of the city along with your group.
Making dining affordable in DC can be tricky, but with a little planning, your group will be able to remain within budget. One great option is to consider asking your hotel to pack a brown-bag lunch for your group. This works especially well during the spring and summer when your group can enjoy a picnic in the many outdoor parks in DC. Another wonderful alternative is to head to the streets neighboring Georgetown University. The restaurants in the vicinity are priced to meet the budgets of local students without compromising quality or variety. Another way to stretch your budget is to consider purchasing local Groupons. Like most big cities, Washington, DC, is very competitive when it comes to online deals.
Best DC Activities for Groups
Go for the freebies first by scheduling visits to all the government buildings, monuments, and government-sponsored exhibits. Don't miss out on the National Zoo, one of the few zoological parks in the world that is free and has panda bears on display. Head to the Smithsonian and spend a day or two enjoying some of the most striking collections in the world. Head to Rock Creek Park and enjoy one of the very few planetariums accessible at no cost. Finally, don't miss out on important landmarks such as the White House. While you may not be able to tour the inside, you can still take great photos of your group right in front of the building.
The Groople team is ready to help you get the best possible hotel rooms at the best rates in Washington DC, give us a call and let's start planning a successful group trip.
Top Things to Do/See in Washington DC
Tour the US Capitol
Visit the Lincoln Memorial
Visit the National Air and Space Museum
Tour the Smithsonian Museums
Visit the National Zoo
See a performance at the John F. Kennedy Center
Visit the Library of Congress
Visit the National Gallery of Art
Dine in the Adam's Morgan Neighborhood
See the Cherry Blossoms Festival in Spring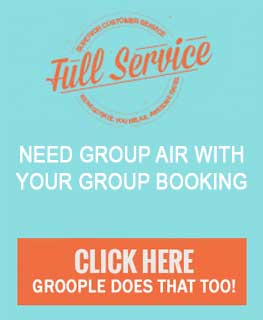 Yearly Weather Averages
| MONTH | HIGH | LOW |
| --- | --- | --- |
| January | 43 | 29 |
| February | 47 | 31 |
| March | 56 | 38 |
| April | 67 | 47 |
| May | 75 | 56 |
| June | 84 | 66 |
| July | 89 | 71 |
| August | 87 | 70 |
| September | 80 | 63 |
| October | 68 | 51 |
| November | 58 | 41 |
| December | 47 | 33 |