The city of San Francisco, with its ever-changing social landscape, is one of the most popular travel destinations for groups heading to California. San Francisco, welcomes over 17 million visitors every year and for many it has become a tradition worthy of repeating year, after year. An eclectic mix of Victorian architecture and modern flair paired with superior walkability and a traveler-friendly public transportation system make the City by the Bay a must-visit. San Francisco will satisfy and delight groups passionate about culture, design, arts and farm-to-table culinary experiences. Adult groups, corporate groups, and student groups seeking to embrace all that this vibrant destination has to offer won't be disappointed. Those passionate about shopping will value the many designer shops and boutiques in close proximity to Union Square. Groups visiting San Francisco appreciate the mild summers and foggy mornings that only add to the intimate feel. Groups will experience one of the richest and most culturally diverse destinations while exploring Chinatown, the Mission District, Japantown, and San Francisco's "Little Italy," North Beach.
Best San Francisco Hotels for Groups
Finding the right hotel for your group won't be hard with the help of Groople's group travel professionals. Smaller groups can take advantage of quaint boutique properties in the heart of the city, while larger groups will get to enjoy the detail-oriented hospitality of iconic properties close to Union Square. Take a look at some of our best partners, selected for their consistent quality and commitment to our groups.
A short walk from Union Square, the Parc 55 Hotel puts groups just steps away from all the action. Parc 55 is a great fit for adult groups with plans to enjoy the San Francisco culinary and nightlife scenes. The guestrooms and public areas are sophisticated and spacious. Some of the guestrooms offer fantastic views of the city.
A lovely, revitalized historic property, the Pickwick Hotel offers groups boutique-style hospitality in the center of everything. Right next door is the Westfield San Francisco Centre, just steps away from the Cable Car Turnaround and three blocks from Moscone Convention Center. The Pickwick Hotel has a fantastic vibe with value pricing. Student groups as well as adult groups attending conventions and conferences in San Francisco will love The Pickwick.
Located in the up-and-coming Tenderloin District and in close proximity to some of the finest culinary gems in the city, the Mark Twain is a highly rated property with many features that will enhance the comfort and convenience of groups traveling to San Francisco on a budget.
Group Savings in San Francisco: Tips and Tricks
Making your group budget last while visiting the main attractions in California can be tricky. San Francisco, in particular, presents a challenge to most budgets, and it demands smart planning to make the most of your group budget. The first and most important way to save money is to avoid using a private vehicle; vans, charters, and other group transportation will have a difficult time securing affordable parking. Consider purchasing a Go Card to save on entrance costs to main San Francisco attractions.
Best Times to Travel to San Francisco
September to November may just be the best months to visit San Francisco. Mild weather and lighter tourist crowds set the stage for an idyllic visit of the City by the Bay. January to March may be the best time to get the greatest bargains and travel deals, but be prepared to deal with chilly, humid weather with cold breezes in coastal areas such as Fisherman's Wharf. The Moscone Convention Center is host to many techie events, making it essential to check their calendar before planning your group trip. A single convention can take over all the hotel rooms in the city. Take a quick look at our events guide before you start planning your group trip.
Getting to and Around San Francisco for Groups
If you are flying into San Francisco, then you can choose between three very reasonable airports within a short drive of the city: San Francisco International Airport, Oakland Airport, and San Jose Airport. Getting from the airport into the city is best done by taking advantage of shuttles or the BART system. A one-way ticket from San Francisco Airport to San Francisco is only $8.65. If your group is due to arrive via private car, then make sure you budget for parking. Overnight parking can cost from $25 to $50, depending on the location. Your group can take advantage of the three-day cable car visitor pass, giving your group unlimited access to local Muni transportation including buses and cable car rides. The CityPASS does include unlimited access to public transportation in addition to discounted entrance to key San Francisco attractions such as the aquarium.
Group Dining in San Francisco
Thanks to the many cultural neighborhoods, your group won't have much of a problem finding a good meal at a decent price. Head to Chinatown and find a local dim sum shop where your group can have a great culinary experience under $10. Consider enjoying a casual meal of clam chowder and sourdough bread at Fisherman's Wharf, or head to the Mission District for authentic Mexican fare and well-known local taquerias. Don't forget to try local Italian bakeries where you can sample great desserts for under $5.00.
.
Best San Francisco Activities for Groups
Thankfully, some of the best San Francisco attractions for groups come at little to no cost. Your group can head to Fisherman's Wharf for a day of fun and shopping by the sea, with a stop at Pier 39. Set a day aside to enjoy the natural beauty of Golden Gate Park where the Japanese Tea Garden will give your group plenty of opportunity to take great photos. Book a day-trip to Alcatraz Island. If your group has more than 15 people, then you will need to make advanced arrangements with Alcatraz Cruises. If your group happens to be in the city during nice weather, then consider booking a free walking, guided tour of The Golden Gate Bridge hosted by the Parks Conservancy Service. Spend a late afternoon visiting the shops and restaurants in Chinatown. If your group is fortunate enough to be in the city during the month of September, then be sure to join the Chinese community as they celebrate the Annual Moon Festival.
Groople California group travel experts look forward to working with you to find the perfect hotel for your group
Ten Things to Do/See in San Francisco
Visit Fisherman's Wharf
Take a tour of Alcatraz Island
Visit Golden Gate Park
Visit Chinatown
Visit Union Square
Visit the Presidio of San Francisco
Take a hike up to Twin Peaks
Take a ride on the Trolley Car System
Go shopping in Union Square
Visit the Exploratorium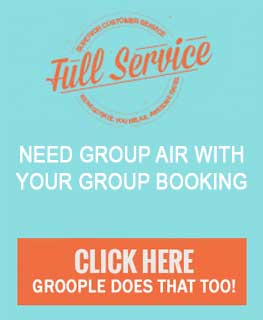 Yearly Weather Averages
| MONTH | HIGH | LOW |
| --- | --- | --- |
| January | 57 | 46 |
| February | 60 | 48 |
| March | 62 | 49 |
| April | 63 | 49 |
| May | 64 | 51 |
| June | 67 | 53 |
| July | 67 | 54 |
| August | 68 | 55 |
| September | 70 | 55 |
| October | 69 | 54 |
| November | 63 | 50 |
| December | 57 | 46 |