The day has come.  Your team has now made it to one of the New Year's Day 6, or better yet, to the BCS Final Four.  You and your closest 20+ friends and family all want to get to the game.  You have already conquered the game tickets, but now you must get there, find a hotel and get prepared to celebrate a victory.
Below are a few tips of things that you might want to consider so that the success does not leave a big hole in your pocket.
Alternate Airport:
Be open to flying into an alternate airport that is close by that may have better pricing.  This may be a cost saver. If your game is in Los Angeles, there are 3 airports in the area that can be considered.  If going to New Orleans, you might want to consider flying into Biloxi/Gulfport.
Charter Bus:
If the drive to the destination is less than 8 hours, should you consider a charter bus?  This can be a great way to travel as a group, could be cost effective, and with an 8-hour drive, you are sure not to break any DOT rules about how long a driver can operate the bus before having to take a break.  You also save by not having to hire a second driver for the trip.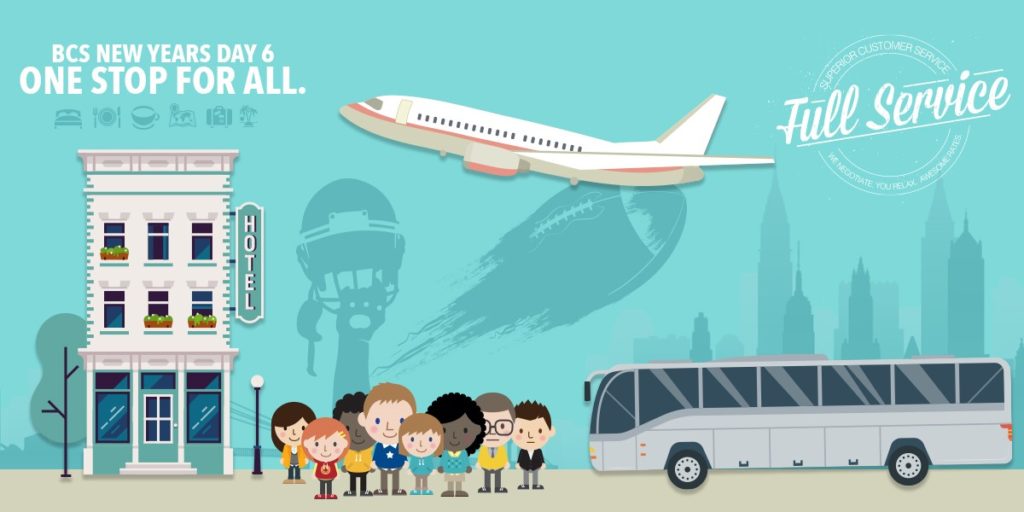 Hotel Accommodations:
This is a part of the trip that can be tricky, and you must get right.  Can the hotel that you would like to stay in guarantee all rooms with two beds?  Before and after celebrating, nobody wants to have to sleep on the floor.  Does the hotel include breakfast, or are you prepared to put out another $15.00 to $20.00 per person for breakfast each morning?
Coordinating all of this can be a big hassle, and do you have the 10 hours minimum to spare that will be required to put all of this together right.  Never mind the stress of having to coordinate with everyone else in the group.
Last minute bowl game celebration?  Team selected to the New Year's Day 6?  Come to groople and let them handle your group air, group hotels and charter bus needs for you.  The one stop place for all your group travel logistics.  groople.com.  We Know Groups!