As the home of southern hospitality, Atlanta is a melting pot of cultures where modern meets historic. Groups traveling to Atlanta can look forward to world-class museums, unique historical neighborhoods, and outstanding opportunities to immerse themselves in great cultural activities such as theatre and classical symphonies. Home to numerous large corporations Atlanta is frequented by large groups heading to national meetings, conventions and conferences. Atlanta has something for everyone including sports fans; a visit to Turner Field is an absolute must.   Groups traveling to Atlanta with culture and education in mind will not want to miss the many locales that give a visual narrative of The Civil Rights Movement. Atlanta is a great destination for college and student groups wanting to expand their hands-on knowledge of historical events that shaped America such as the Civil War. With almost 200 years of history, Atlanta has something for everyone, from civic groups looking to do social outreach to church groups wanting to learn more about urban missions.
Best Atlanta Hotels for Groups
Groups heading to Atlanta will have options in lodging at great hotels located in neighborhoods like downtown, Midtown, Buckhead, and Marietta. Depending on the reason for the group trip, Groople can help your group find hotels to fit every budget, and place your group in close proximity to the main attractions and most coveted events in Atlanta, GA. Even when everything seems sold out, we can help groups of any size locate great hotels in Atlanta. We have many hotel partners with a great reputation for delivering high-quality services to groups. Why not consider these hotels for your next group booking in Atlanta?
Embassy Suites Atlanta Buckhead
For groups seeking a central location, the Embassy Suites Atlanta Buckhead is a smart and reliable choice. The two-bedroom suites with mini refrigerators are ideal for student groups. The complimentary cook-to-order breakfast will help your group get off to a great start while saving significantly on your dining budget. Other perks like the daily evening Manager's Reception will give your group the opportunity to wind down and mingle after a long day of work or play.
Fairfield Inn By Marriott Atlanta Six Flags
Youth groups will appreciate the value offered by the Fairfield Inn by Marriott. Near I-20 and just a little over a mile away from Six Flags, the Fairfield Inn makes sense for groups arriving by bus. Complimentary parking along with free, hot, continental breakfast will help your group budget go further. The Fairfield Inn by Marriott Atlanta Six Flags is close to many casual restaurants, ensuring your group does not have to go far to enjoy a meal at a good price.
Comfort Inn & Suites Galleria
Located in Smyrna, GA, the Comfort Inn & Suites Galleria is a highly rated value hotel that will put your group in the center of the action. In close proximity to Six Flags White Water and Cobb Galleria Centre, your group won't lack for things to do while visiting Atlanta. With close access to major highways and free parking, accessing major attractions such as Philips Arena, Georgia Dome, World of Coca-Cola, and the Georgia Aquarium will be a breeze.
Group Savings in Atlanta: Tips and Tricks
One of the smartest moves to save money when traveling to Atlanta with a large group is to consider lodging in the suburbs. This is particularly effective if you are visiting over the weekend when traffic jams are less of a problem. Downtown and Midtown hotels can be difficult to book at a value rate due to the many corporations with headquarters in Atlanta. Don't miss out on visiting the Fox Theatre. While your group may not be able to afford a performance of the ballet or the symphony, tours of the theatre can be had for $10, allowing you to see one of the most beautiful feats of early-century architecture. For Travelers with a passion for history and civil rights heading to the Martin Luther King, Jr. National Historic Site is a fantastic way to spend the day. This is an absolutely free activity that will provide your group with a close-up look at the many events that shaped the civil rights movement. During nice weather, consider spending time with your group at Piedmont Park. Like many other major cities in the U.S., your group can benefit from the discounts offered by CityPASS. Quite often their prices for attractions are cheaper than any group discount available
Best Times to Travel to Atlanta
For the best possible hotel rates, head to Atlanta in the winter when the weather is still bearable and the crowds have left town. During the spring, Atlanta is home to the Atlanta Food & Wine Festival, making it the perfect time to go if your group enjoys the culinary arts. As for music fans, don't miss out on the Atlanta Jazz Festival, held at Piedmont Park late in May every year. For those visiting Atlanta during the winter, consider making your plans around The Martin Luther King, Jr. celebration in January.
Getting to and Around Atlanta for Groups
Atlanta is home to one of the largest hub airports in the world, Hartsfield-Jackson International, affording travelers excellent connections and rates. Atlanta is also home to a large Amtrak station with affordable tickets from many cities on the East Coast and in the South. If your group arrives by bus, keep in mind that both I-20 and I-10 have severe congestion issues during peak hours. While in the city, why not opt for public transportation? The MARTA system is both affordable and reliable, with daily and weekly passes that might just make sense for your group.
The Atlanta food scene has something to satisfy every budget and every palate. Atlanta is home to Chick-fil-A, a crowd pleaser for youth groups. If your group wants to explore the culinary trends while hitting the city, then why not consider eating at the Food Truck Park and Market on Howell Mill Road? It is really popular with the locals and a great place to get a fun meal for cheap. For those seeking a gastronomic experience, hole-in-the wall style, consider heading to Ann's Snack Bar for a Ghetto Burger, which is rated among the best burgers in the world. This is an experience you don't want to miss.
Best Atlanta Activities for Groups
Fans of the Braves visiting Atlanta should consider heading to Turner Field for a day of fun, food, and baseball. Another iconic Atlanta attraction loved by all is the World of Coca-Cola, a permanent exhibit celebrating the history of this famous soft drink. For those interested in history, include the Cyclorama & Civil War Museum and the National Center for Civil and Human Rights as part of your Atlanta group itinerary. Finally, and this is especially important if you are hosting a youth group, set a day aside to enjoy the rides at Six Flags.
The Groople team is dedicated to finding groups of any size the best possible hotel rates with great perks to help your group get more for your money. Let us help your group plan a trip to remember.
Top Things to Do/See in Atlanta
Visit the World of Coca Cola Museum
Visit Centennial Olympic Park
The Georgia Aquarium
Visit the National Center for Civil & Human Rights
Visit Six Flags over Georgia
Visit Stone Mountain Park
Take a tour of CNN
Visit the High Museum of Art
Go shopping in Buckhead
Visit Piedmont Park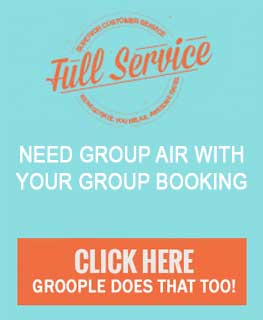 Yearly Weather Averages
| MONTH | HIGH | LOW |
| --- | --- | --- |
| January | 52 | 34 |
| February | 57 | 38 |
| March | 65 | 44 |
| April | 73 | 52 |
| May | 80 | 60 |
| June | 86 | 68 |
| July | 89 | 71 |
| August | 88 | 71 |
| September | 82 | 65 |
| October | 73 | 54 |
| November | 64 | 45 |
| December | 54 | 37 |