Chicago welcomes visitors with the perfect mix of urbanism and lush landscaping, making it one of the most beautiful, large cities in the world. Chicago is home to great corporations like McDonald's Corp, Sears, Walgreens and Boeing Co. Chicago is also home to renowned financial institutions, and museums featuring highly coveted art collections. Along the shores of Lake Michigan groups will find many attractions suitable to travelers of all ages.  Student groups won't want to miss the Sears Tower or John Hancock Center, which both provide a great point of observation for the city skyline. Those traveling to Chicago to host corporate groups or incentive travel will be able to treat their groups to some of the finest culinary experiences in the world and great sports entertainment at Wrigley Field. No trip to Chicago is complete without an evening of fun at the Navy Pier. Groups heading to Chicago need to be cognizant of severe winter weather as well as many large city-wide events that might impact the prices of group hotels, air travel and local attractions.
Best Chicago Hotels for Groups
The city of Chicago has hotels for every budget, from modern and minimalist to modern examples of design and architecture that will simply delight the most demanding of corporate clients. The Groople hotel booking team handpicked some of our favorite hotels for groups. These properties are always ready to cater to the needs of your group and extend special pricing to help you stay within budget.
On Michigan Avenue, across Millennium Park and Grant Park, the Congress Plaza Hotel boasts 871 spacious and well-appointed guestrooms. This historical hotel can cater to groups of any size, placing guests in the middle of the action. It is walking distance from the most popular museums, the Chicago Board of Trade Building, and Willis Tower, so groups staying at the Congress Plaza won't miss a thing.
Hyatt Place Chicago River North
This highly rated property offers groups comfortable accommodations with easy access to public transportation. This LEED certified, newly built property is a great place to stay without breaking the bank. Student groups will love the proximity to Navy Pier for fun-filled evenings. Just north of The Chicago Loop, the Hyatt Place Chicago River places travelers close to great shopping and dining opportunities at the Magnificent Mile.
Listed as one of the "great small hotels in the world" according to Fortune magazine, the Whitehall delivers sophistication and superior hospitality in a beautifully restored setting. Perfect for incentive travel or corporate groups, the Whitehall Hotel places travelers just half a block away from the shops at Michigan Avenue, where dining, entertainment, and shopping abounds.
Group Savings in Chicago: Tips and Tricks
Groups heading to Chicago will want to take advantage of the many museums and cultural attractions available year-round. To maximize your group budget, consider purchasing the Chicago CityPass. The pass will save you a little over 50 percent on Chicago's top attractions. For last-minute seats to see the Cubs play at Wrigley Field, consider using seatgeek.com. Keep in mind that last-minute seats may mean having to separate your group. This may not work as well if your group is young and requires the assistance of a chaperone. For groups traveling on a very tight budget, Chicago has many activities available at no cost. Consider checking the Guide to Free Activities in Chicago.
Best Times to Travel to Chicago
The best group hotel rates are frequently available during the winter months when temperatures are usually less than 20 degrees. If your group is heading to Chicago with a set agenda that includes several indoor activities, then picking a winter month might just help you get more for your money. For groups seeking to enjoy the architectural grandeur of the city, the best time to visit is during late spring and early summer. To best appreciate what Chicago has to offer, plan a river cruise and include a visit to an observation point such as Willis Tower or The John Hancock Building.
Getting to and Around in Chicago for Groups
Chicago is home to two airports: Midway and O'Hare. Both airports have access to great transportation networks via train to bring you and your group into the city. Driving and parking a car or chartered bus in Chicago can become problematic, especially during peak hours. Thankfully, with some planning, your group can access the most popular Chicago attractions by either walking or combining the elevated train, or "L," with public buses. During the winter, consider becoming familiar with Chicago's skywalks and underground paths. This will help your group stay warm and get to where you need to go in comfort and safety.
Chicago is a culinary mecca with a huge variety of restaurants representing every culture around the globe. If your group appreciates high-quality cuisine or you are hoping to entertain a corporate group with fine dining, then you will have plenty to choose from. Keep in mind that some of the most coveted Chicago restaurants, such as Alinea, sell out months in advance. If your group is looking for ways to stretch your dining budget, Chicago is a great place to take advantage of Groupon instant local deals, which can save you up to 40 percent on your dining experience. During the summer, it may be best to stay away from Navy Pier dining, where the wait for a table can sometimes be more than 90 minutes. Waits can be especially challenging for groups in need of large tables. If you are a foodie venture to N. Halsted St. and explore the many culinary options prepared by well-known chefs.
Best Chicago Activities for Groups
One of our favorite group activities in Chicago is taking advantage of a river cruise. There is no better way to get to know the city! If your group is fortunate enough to be in Chicago during St. Patrick's Day, the river will be dyed green to add to the holiday festivities. Your group mustn't miss the permanent exhibitions at the Art Institute, with over 300,000 permanent artifacts and many temporary exhibits of world masters of the art. Finally, no trip is complete without heading to Wrigley Field to enjoy a game. Finally, no group trip to Chicago is complete without a shopping adventure to take advantage of the great bargains found at Filene's Basement a local institution you won't want to miss.
Top Things to Do/See in Chicago
Visit the Navy Pier
Go shopping on the Magnificent Mile
Visit the Museum of Science and Industry
Visit Lincoln Park Zoo
See Millennium Park
Visit Lincoln Park
Visit Chicago Children's Museum
Visit Grant Park and Buckingham Fountain
Visit the Willis Tower Skydeck
Take an Architecture Cruise of Chicago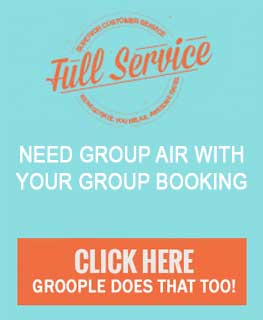 Yearly Weather Averages
| MONTH | HIGH | LOW |
| --- | --- | --- |
| January | 32 | 18 |
| February | 38 | 24 |
| March | 47 | 32 |
| April | 59 | 42 |
| May | 70 | 51 |
| June | 80 | 61 |
| July | 84 | 66 |
| August | 83 | 65 |
| September | 76 | 57 |
| October | 64 | 46 |
| November | 49 | 35 |
| December | 37 | 24 |