Established in 1905, Las Vegas, Nevada, has grown to be known as The Entertainment Capital of the World. With over 40 million visitors arriving every year, and being home to more than 22,000 conventions, Las Vegas is bound to have something for everyone. Home to 15 of the 25 largest hotels in the world, this fun-filled destination is popular because of its affordability and great accessibility by air and by car. Mild temperatures year-round add to the attractiveness of this renowned destination. Las Vegas is not just for gambling anymore; there are endless entertainment, shopping, and dining options as well as special events and conventions for any budget and any group size. Corporate groups, weddings, family reunions, fraternity trips, senior clubs, and those heading to Vegas for coveted sporting events like the AAU basketball tournament can maximize their fun and budget, and make the most of this destination by letting a Groople expert tackle their hotel needs. Groople will leverage their partner network and secure the best possible hotel rates.
Best Vegas Hotels for Groups
Las Vegas is very amicable to large groups, but some hotels are better known to go the extra mile by offering groups great hotel prices and additional amenities specifically designed to meet the needs of the group. Because of their affordability and dedication to giving Groople guests VIP treatment, these Las Vegas hotels are among our favorites:
Circus Circus is a legendary hotel and our favorite for families. Circus Circus offers a range of accommodations as part of their hospitality complex. Casino, West, and Skyrise towers have traditional rooms, and just half a block away, guests can stay at the Manor Motor Lodge area, which offers self-parking. If your group has RV aficionados, Circus Circus features an RV park operated by the casino. The rooms are nicely updated across all complexes. Circus Circus is a fantastic hotel to host large family reunions. Consider setting a day aside to spend at Adventuredome Amusement Park, and take advantage of their discounted group rate for groups of 15 or more.
Why not have your group stay at Harrah's? Harrah's offers a variety of entertainment options that are perfect for a corporate group. Comedy shows are their specialty, giving your group a unique opportunity to laugh together while developing esprit de corps.
South Point Hotel Casino and Spa
South Point Hotel Casino and Spa is the ultimate off-the-Strip value for groups. With complimentary shuttle to the Strip and endless on-location amenities, the South Point is a smart choice for all types of groups. This highly rated hotel is home to a beautiful equestrian arena that is perfect for groups attending rodeos.
Group Savings in Vegas: Tips and Tricks
For the best group savings in Las Vegas, your best bet is to have a Groople destination expert work with you. Groople maintains a calendar that tracks major events that might affect the pricing of your group hotel bookings, and they are able to make recommendations accordingly. For shows and other forms of entertainment, groups have two paths to savings. The first consists of negotiating a group rate that can be done in combination with your room block. Your second option, if your group is more flexible, consists of using a last-minute show consolidator. The only drawback with last-minute purchases is getting seats together might not be guaranteed.
Best Times to Travel to Vegas
Las Vegas is fun year-round, and you will always find great things to do for your group in air-conditioned settings. If your group wishes to enjoy the outdoors, such as the pool or walking on the Strip, then avoid the peak of summer when temperatures can rise well above 105 degrees. For the best rates, avoid weeks with large conventions. For your reference, we have listed top events on the right corner of this page.
Getting to and Around Las Vegas for Groups
Many airlines fly into McCarran Airport. The best bet for groups is to plan ahead and purchase airline tickets in advance. Las Vegas does not have an alternate airport, but make sure you check the fares for low-cost carriers such as Frontier, Southwest, and Spirit. Getting from the airport to the Strip is most affordable via shuttle or using DEUCE. Cabs are readily available but can be costly for a large group. For groups with more than 40 people, consider arranging transportation to and from the airport in advance. If your group decides to head to Las Vegas by car, then take into account the added cost of valet parking, ranging from $17 per day to as high as $40 plus tips. Take advantage of the monorail to visit the main casinos on the Strip. The monorail is fast, affordable, clean, and handicap accessible. Even if your hotel is not on the Strip, the monorail has a free shuttle available to main casinos off the Strip. A two-day pass is just $22.
When it comes to dining, groups cannot ask for a better place than Vegas. Las Vegas is dining paradise for any size group. If your group is flexible, then your best bets will be the buffet options offered by most hotels. By opting for the buffet, your group will be able to dine together without the concern of overwhelming the kitchen. For larger groups, consider a catered event, which can also double as a celebration. Your Groople expert can connect you with the right people at your hotel of choice.
Best Las Vegas Activities for Groups
If your group is comprised of mainly adults, then set a night aside to visit one of several renowned nightclubs such as Light, XS, or TAO, and prepare to dance the night away in style. The Improv Comedy Club at Harrah's is a smart option for company trips. Also, many of the casinos offer complimentary poker lessons, making it a great activity for groups on a budget.
Ten Things to Do/See in Las Vegas
The Fountains at Bellagio
The Fremont Street Experience
The Forum Shops at Caesars Palace
The Rides at the Stratosphere Tower
Shopping at Las Vegas Premium Outlets
Cirque du Soleil "O" Show at Bellagio
Red Rock Canyon Hiking Tour
Adventure Dime at Circus Circus
Roller Coaster at New York New York
Visit the Grand Canyon and Hoover Dam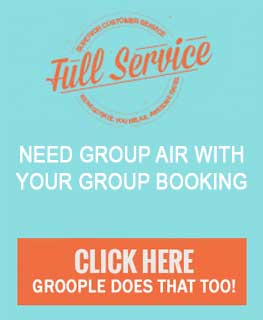 Yearly Weather Averages
| MONTH | HIGH | LOW |
| --- | --- | --- |
| January | 58 | 34 |
| February | 63 | 39 |
| March | 69 | 44 |
| April | 78 | 51 |
| May | 88 | 60 |
| June | 100 | 69 |
| July | 106 | 74 |
| August | 103 | 74 |
| September | 95 | 66 |
| October | 82 | 54 |
| November | 67 | 43 |
| December | 58 | 34 |