The city of New Orleans is a true gem where many cultures come together to deliver unique and memorable travel experiences. From cuisine to folklore and architecture, New Orleans offers a never-ending adventure for all of your senses. Founded in 1718, "The Big Easy" brings together the spirit of French, African, and Anglo influences. A fun-filled destination for adult groups as well as groups getting ready to embark on a cruise, New Orleans's warm hospitality will delight at every moment. Groups heading to The Big Easy will have endless hours of fun in Bourbon Street. With great historical sites New Orleans is not just for groups looking for great nightlife. Groups with children and students will not be disappointed and those wanting to sample the best of Creole and Cajun cuisine cannot ask for a better place. Visiting New Orleans is a fresh breath of air for travelers with a heart for discovery.Whether it is just a weekend getaway or a week-long excursion to enjoy the Mardi Gras festivities, Groople is ready to help you find the best and most affordable accommodations for your group.
Best New Orleans Hotels for Groups
Finding just the right hotel for your group will significantly impact the quality and enjoyment of your trip. The New Orleans metropolitan area is comprised of several neighborhoods, all with their own unique charm, from historical with a European flair to modern avant-garde. Groups heading to New Orleans can select great hotels located in areas such as the Garden District, French Quarter, Ernest N. Morial Convention Center, Metairie, and Louis Armstrong Airport. The specific needs and activities of your group, as well as your budget, will help you decide on the most appropriate location for your group hotel. Here is a short list highlighting some of our favorite hotels:
Ambassador Hotel New Orleans
Centrally located in the Arts District, and just a short walk away from the French Quarter and the Convention Center, the Ambassador Hotel New Orleans is a fantastic choice for adult groups. The Ambassador is a newly renovated boutique hotel that welcomes group guests, with great attention to detail. The rooms feature elegant designs with exposed brick and hardwood floors. Groups staying at the Ambassador can take advantage of a light continental breakfast and enjoy the 24-hour fitness facility with both cardio and resistance Precor equipment.
Located in the Heart of NOLA, with a Bourbon Street address, the Royal Sonesta Hotel welcomes group guests to timeless and elegant hospitality. The Royal Sonesta is perfect for groups hoping to make the most of New Orleans's culinary and night scenes. The hotel is within walking distance of the most desirable bars, jazz clubs, and restaurants in the French Quarter. Each of the richly appointed guestrooms offers excellent views of the pool, lush terrace, or lively Bourbon Street. Groups can take advantage of the Sonesta's four dining venues and enjoy a full Creole brunch at Restaurant R'evolution, or cocktails with friends at Le Booze.
Hyatt Place New Orleans – Convention Center
The Hyatt Place New Orleans – Convention Center is a smart choice for groups seeking value without compromising quality. The Hyatt Place New Orleans Convention Center is located in the Arts and Warehouse District, in close proximity to renowned art galleries and highly rated restaurants. Groups staying at Hyatt Place can take advantage of the hotel's proximity to the Audubon Aquarium of the Americas and riverfront. The Hyatt Place is highly rated and offers groups spacious and modern rooms with every convenience imaginable, and value-ad perks such as their a.m. Kitchen Skillet complimentary hot breakfast.
Group Savings in New Orleans: Tips and Tricks
New Orleans offers group travelers many opportunities to get extra value for their buck. One of our favorite ways to consolidate and save on local attractions is by getting a New Orleans Power Pass. The pass covers admission fees and skip-the-line passes for over 30 different attractions. Another great way to get to know the city without breaking the bank is to spend time visiting main landmarks such as Jackson
Square or the antique shops at the Royal St. Charles Hotel. During the week, many of the iconic restaurants in the French Quarter will give free tours of their kitchen to groups of 15 people or less.
Best Times to Travel to New Orleans
To truly capture the essence of "The Big Easy," the best time to visit the city is during Mardi Gras. If Mardi Gras shenanigans are not your thing, then consider joining the city at the end of October for the Voodoo Music & Arts Experience. Their lineup gets better by the year, and the vibe is something your group will not soon forget. If your group is trying to avoid the crowds, then consider visiting New Orleans in the heart of the summer. During this time, the city is quiet but the weather can sometimes be downright uncomfortable. January is also a great time to visit. New Orleans is quieter and the weather is not frigid.
Getting to and Around New Orleans for Groups
Many low-cost airlines fly into Louis Armstrong International Airport. Shop around to find the best deal for your group. When planning your group trip, don't forget the possibility of bad weather during hurricane season, which normally runs from June through November. If your group is traveling by car or charter bus, be aware that the streets in the French Quarter can be quite narrow, and parking for larger vehicles is both scarce and expensive. Once you are in the city, don't discount the possibility of using public means of transportation such as the streetcar, rented bikes, and pedicabs. If you plan to enjoy the vibrant party zone on Bourbon Street, then pick a hotel that will allow for you and your group to walk to and from the local bars and restaurants.
Group Dining in New Orleans
One of the best tips we can give you to help your group do more with your money is to take advantage of happy hour. Most restaurants in the French Quarter offer discounted food and libations early in the day. Consider having an early dinner consisting of discounted appetizer platters to satisfy every taste. Because New Orleans is a culinary mecca, make sure you book your group dining reservations way in advance. Some of the top restaurants are often booked months in advance, and securing a table for large parties can prove tricky. Don't miss Emeril's, Olivier's Creole, Antoine's, Cochon, Café Du Monde, and Court of Two Sisters.
Best New Orleans Activities for Groups
We love the nightlife in New Orleans, but the city has much more to offer. Consider taking your group to cheer for the New Orleans Saints, and if you are fortunate enough to be in the city in January, then you won't want to miss the Sugar Bowl. Plan to spend a whole day exploring the historical neighborhoods, such as the Garden District or Metairie. Don't miss the Ogden Museum of Southern Art, and make sure your group spends time at the Audubon Nature Institute. One less traditional but still interesting and affordable thing to do is to book a bus trip of the areas most affected by Hurricane Katrina. Even after almost a decade, these neighborhoods have hardly returned to normal. Before you head to NOLA, take a look at our events calendar to help you decide the best time for your group to visit.
Top Things to Do/See in New Orleans
Visit the French Quarter and Jackson Square
Visit the Ogden Museum of Southern Art
Visit City Park
Enjoy live music on Frenchman Street
Visit Union Square
Tour the Audubon Institute Aquarium of the Americas
Visit the Insectarium and Butterfly Garden
Take a tour of the city in a Streetcar
Enjoy beignets and coffee at Café du Monde
Food, Food, Drinks:  Enjoy the poboys and more.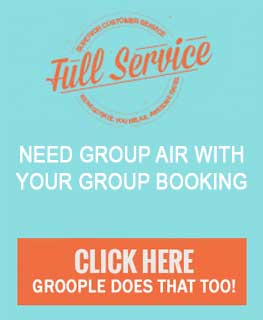 Yearly Weather Averages
| MONTH | HIGH | LOW |
| --- | --- | --- |
| January | 62 | 45 |
| February | 65 | 72 |
| March | 72 | 54 |
| April | 78 | 60 |
| May | 85 | 68 |
| June | 90 | 74 |
| July | 91 | 75 |
| August | 91 | 75 |
| September | 88 | 72 |
| October | 80 | 63 |
| November | 72 | 54 |
| December | 64 | 47 |