Group Travel & Hotel Deals For Universities & Colleges
How Do You Get The Best Hotel Deals For College Students Traveling in Groups?
Not every college or university has the luxury of having an internal travel department. For the majority of college students when the time comes to travel as a group for academic activities or sporting events the planning, budgeting and execution of each trip falls into the hands of a volunteer. Putting together a group trip and booking hotel rooms with complex rooming lists is not an easy task. Anyone who has tried booking more than ten hotel rooms at most hotel websites or online hotel websites will quickly tell you about the frustration of getting a timely and accurate quote, appropriate availability and a great group hotel discount. Groople is ready to help you book and coordinate your college or university group travel and hotel reservations.
To get the best deals for university groups you need to have a partner that knows what it takes to get the best hotel deals for groups. Groople leverages decades of travel experience and strong relationships with thousands of hotels helping their groups secure great prices on hotels regardless of the season.
Stretch Your Budget Even Further by Using GroopleGives
Groople wants to partner with you to help you get the most out of your dollar. We know fundraising is hard and college student budgets are limited. Because we want to be your group travel provider time after time we have created GroopleGives.  GroopleGives rewards you for booking with us by giving you a generous rebate to help you on your next trip or school activity. You can use the rebate as seed money for other activities or use it to host a post-trip gathering to share the memories you have built together. After you checkout Grooplegives will send you up to 2% of your total hotel cost. This could mean hundreds of dollars in rebates for organizations with a busy travel schedule. When you are ready to make your dollar go further when booking your college or university group travel & hotel reservations we want to be there for you and give you an incentive that makes sense.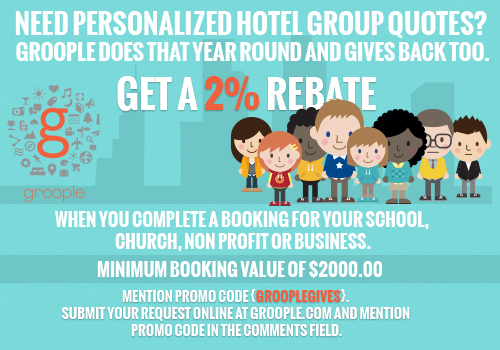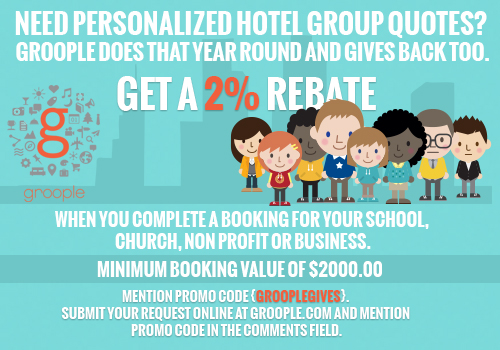 How to Book a College Trip With Affordable Hotels That Offer Value, Quality and Comfort
Discover Hotels With Better Rooming Capacity for Your College Group
One of the best ways to get your dollar to go further is by maximizing room capacity. Groople group hotel professionals are well acquainted with the best hotels globally and can help you identify hotels and other lodging options with rooms that can accommodate more students for less money. Little perks like complimentary rollaway beds can help student groups get where they need to go without breaking the bank. Your college trip will be better for it allowing your group to spend money on seeking new adventures and discovering new places that will enhance your college experience.
Book in Advance When Heading to Popular Spring Break Destinations
Even the most economical hotels can become pricey when booking last minute. If your college group is heading to a popular spring break destination like Padre Island, Virginia Beach, Panama City or Cancun booking ahead will let you get the best hotel group rates and will allow you to take advantage of special perks exclusive for college students. If you want to save money on hotels during spring break your best strategy is to partner with a group hotel planner from Groople. Your planner can help you locate hotels that will put you right in the heart of all the action. Fun guaranteed!
Academic Trips to Expensive Cities Made Affordable
Booking a hotel for a college trip to New York City or Washington DC can be a scary proposition. Hotel prices are usually budget-busters leaving you with very few affordable hotel options for your group. Our hotel planners for university groups will help you find opportunities to save money in your hotel stay by booking in new hotels not yet known to the masses or helping you find a more affordable lodging option within driving distance of your final destination. By finding a great hotel deal for your student group you will be able to afford a longer stay and visit points of interest that will enhance the academic experience of your group.
Making it Work for Independent College Organizations
Let's face it. Not every college organization has access to an in-house travel agency to help them leverage purchasing power and get the best possible hotel rates. If your organization is small and lacks access to a group dedicated to helping you with travel arrangements we are ready to step in. By combining hundreds of transactions from multiple small organizations we have created a network that can give you great prices when booking a hotel for your student group.  Even if you are the assistant coach or director of the Volleyball, Soccer, LaCrosse or Tennis team, we can assist, so you can spend more time working on the operations of the organization.  
What Are The Best Times to Travel for University Groups?
The season or specific days that your group picks for travel may influence the cost of lodging and transportation. With this in mind, when possible student groups should consult with a travel and lodging specialist to make sure they are picking the most affordable travel dates. On occasion flexibility is not an option due to pre-set events such as conferences, conventions and sporting events. Without flexibility in dates the best way to secure a great price for hotel bookings is to work with a consolidator who can help you connect with properties offering special discounts for university groups.
Look for Shoulder Season Travel
If your university organization is set on traveling to a popular destination consider going at the end or beginning of high season. This will guarantee mild weather, access to all the attractions and great hotel rates for your group.
Take the Red Eye
By traveling overnight your group can gain two full days of adventure or activities without having to pay for hotel rooms. Pick the red eye flight for morning arrival and leave on the latest flight out. In the same way if you are traveling by bus plan for most of the driving to happen at night and have Groople negotiate an early check-in.
This is How to Save When Traveling to a Sporting Event
If your college sports league is not sponsored or funded by your Alma Mater you will need to find ways to make the money work to be able to participate in as many invitationals and out of town events as possible. If you are heading to a National event the key to saving money is to book months in advance. The closer you are to the traveling date the harder it will be to secure a block of rooms for your group at a price that makes sense.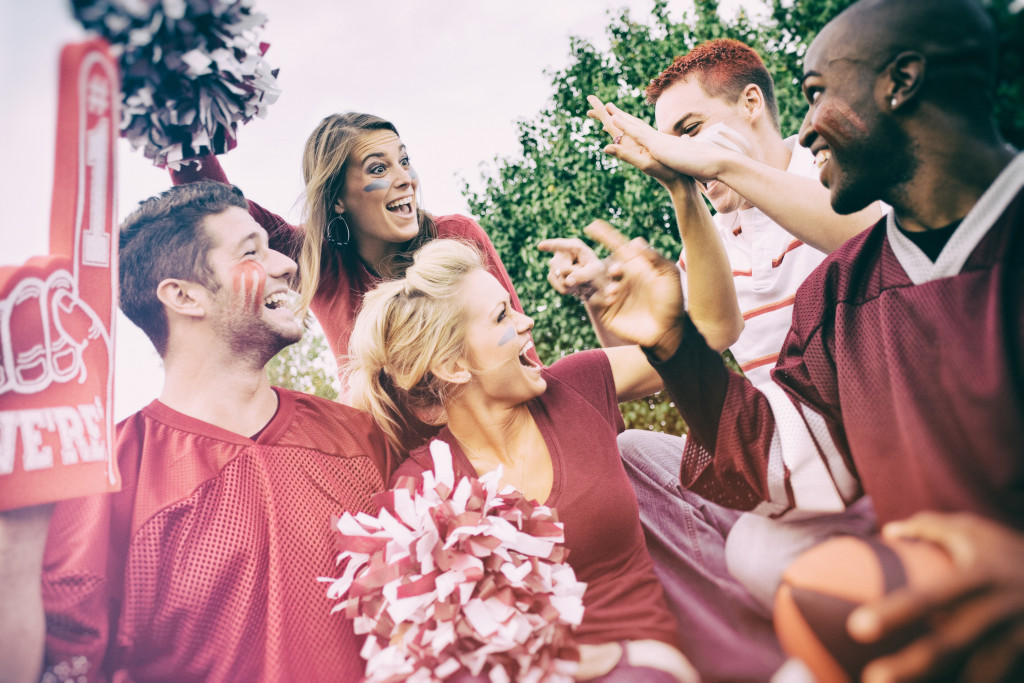 If your group already has a bus you may want to consider shuttling to and from the event and staying in a neighboring town. Having flexibility in this area can save you up to 50% in your group hotel costs.
Fundraising to Pay for Your College Group Trip
With a little imagination and enthusiasm your group should be able to fully or partially pay for some trips through smart fundraising. How you go about getting the money together for your student group may make a huge difference for students on a limited budget. If you are looking for ideas these are by far the most successful and popular tips and ideas for college trip fundraising:
Get The Sponsorship of Local Businesses
This is a win-win all the way around. Your school group may not have the auspice or funding directly from the general school budget but you can still seek out the help of your local community. Offer local exposure to business partners by including their logo on your t-shirt or newsletter or simply ask for opportunities to host a fundraising event at their location.
Ask Friends and Family to Donate their Air Miles
One of the best ways to help your college group get where they need to go is by asking friends, family members and supporters to donate their miles toward air travel. With air travel costs reduced your student group will have far more flexibility and budget to pay for your hotel reservation.
How to Save Even More Money at Your Final Destination
Group travel is more than getting there and having a place to sleep. There are many expenses associated traveling as a group and countless ways to make your money go further.
College Groups Save By Avoiding Luggage Fees
If you are traveling by air make sure everyone understands the maximum allowances for carry ons and have them stick to just one carry on to avoid baggage fees. If the trip will last a week or longer suggest buying toiletries on location to save even further.
College Groups Save By Buying Social Deals
Social deals are a great way to save on entrance fees, meals and other local activities. Sign up to websites like Living Social and Groupon and subscribe to the city or town your college group plans to visit. Keeping a close eye for discounted deals can truly help when you are wanting to visit as many attractions as possible.
Where to Go: These Are the Top Destinations for College Groups
---
If you are still trying to figure out what is the best and most fun destination for your college group we want to help you. These are some of the most coveted and affordable destinations for university students.
A favorite for Spring Break Cancun is on the bucket list of many student groups. Cancun offers endless fun in the sun with great lodging options at prices most students can afford. Air travel to Cancun can be found at excellent prices making it a top pick for adventure seekers.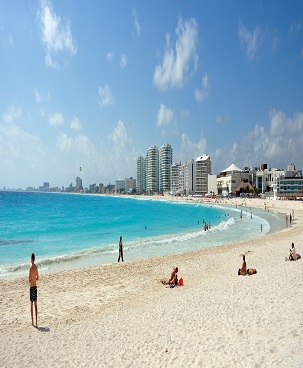 ---
If your group is having a hard time finding a hotel in Daytona or Panama City Florida why not head to Tampa. Tampa is an up and coming Spring Break destination with great hotels at a price that most college groups can afford.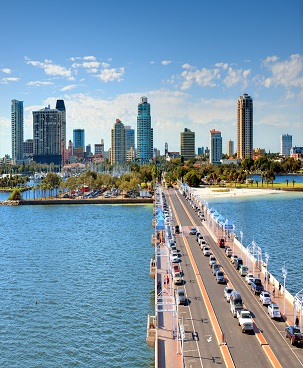 ---
If your college student group is looking for exposure to Hollywood or wanting to explore the beaches of Southern California why not head to L.A. There is a ton to do day and night and Groople can help you locate a hotel within your budget with all the amenities needed to keep everyone comfortable.  One great tip about Los Angeles, you can get to San Diego via car in about 2.5 hours, so a great option to combine two cities.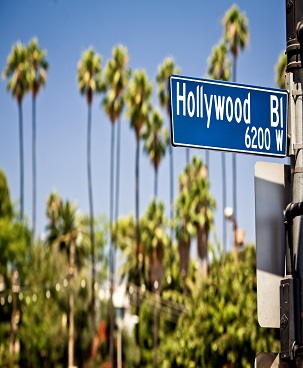 ---
If you are attending college in the East Coast you don't want to miss out on one of the most iconic spring break destinations. Hotels in Myrtle Beach welcome thousands of students every year and provide 24/7 opportunities for fun and community. If your fraternity or sorority is looking for the perfect hotel to reserve for spring break we have you covered. Let us help you set a aside oceanview rooms at a rate you can afford. During spring break venues like Señor Frogs and Celebrations host parties that you will never forget.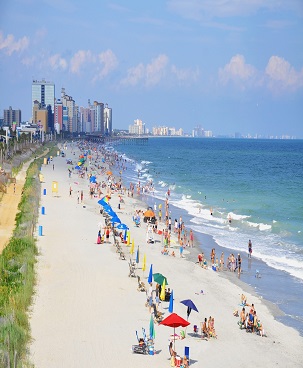 ---
Conquer the slopes at Lake Tahoe. Every winter student associations, fraternities and clubs head to Tahoe to enjoy winter sports like skiing and snowboarding. Finding a hotel that caters to the needs of your college group and does not break the bank is a must. Groups looking for a winter getaway will find that Groople is their best choice when trying to locate and book lodging for groups of ten students or more. We help you find hotels that are affordable and in close proximity to popular ski lifts. Let us start planning your winter getaway now before all the rooms are gone.
---
If your group is looking for fun in the Sun that feels like spring break year-round South Beach offers affordable hotels beautiful beaches and a party scene that never stops. Your college group can stay in beautiful boutique hotels right on Collins Avenue where all the action is happening. Whether you are attending a culinary program and want to spend time at the South Beach Food & Wine Festival, or you just want a place that comes alive at night we can help you book discounted hotel rooms for students in the best rated hotels in South Beach. Just give us a call.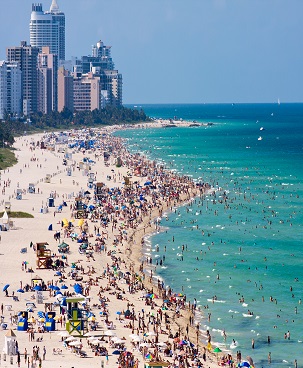 ---
If you are looking for a guide to plan your college group trip, then just submit your info in the contact form below, and we will email you a link to download our easy-to-use checklist and guide. With it, you can make certain that no detail goes amiss. If you need us to start helping you locate the best hotel for your university group, then don't hesitate to give us a call. We are known to get incredible prices and provide customer service at the level your group deserves. You can reach us by dialing (844)476-6753, or by searching for your hotels and submitting a preliminary booking quote.
We look forward to assisting you!