How to Get the Best Hotel Rates for Your School Group
---
If you are tasked with coordinating a school trip, then you probably have many questions, and you will quickly find yourself in full research mode. Your main goals relate to finding an affordable hotel for your group that has a prime location, is safe, and offers amenities that are relevant to the needs of your school group. If you have already started shopping, then you will find that large travel websites are not set up to handle large requests. To get the most for your money when booking a hotel or other travel necessities for a school group, you need a school group hotel expert by your side. Having the right resources to coordinate your school group hotel reservations is essential to a successful trip.
Picking the perfect hotel and finding the best discounts for a large school group can be pretty frustrating, especially if you are not familiar with the full array of hotel options available at your destination of choice.
At Groople, we have a team of well-seasoned hotel-reservations professionals that can connect you with the most suitable hotel options for the specific needs of your group. Groople is always in the loop about new hotels, newly remodeled properties, and properties located in the periphery of a high-cost destination but still within driving distance of the main amenities.
With us, you don't have to start from scratch and become your own hotel-reservations expert. We will handle every step of your planning, from doing research to giving you the best options, and negotiating the little extras bound to make your trip not only a good value but also a perfect fit for the needs of your school group and chaperones.
Stretch Your Budget Even Further by Using GroopleGives
The hotel-reservation professionals at Groople are here to help you get the most for your dollar. To that end, we have a program exclusive to non-profit organizations that is designed to give you a boost by giving you a rebate on the total for your group reservation. You can use the rebate for fun activities like pizza parties, or to begin funding your next student trip. GroopleGives will give you up to two percent on the total of your hotel reservation after checkout.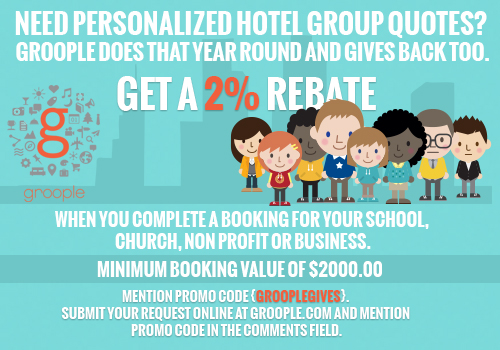 How to Plan and Execute an Affordable, Safe, Educational, and Fun Overnight School Group Trip
Making sure your student group has the best time ever, without compromising their comfort and safety, is all about proper planning. Start by shopping for your group-hotel reservations at least ninety days in advance. This will increase the potential of securing a room block that keeps everyone together, on the same floor, at a price you can afford. Now that you are ready to shop, consider these tips:
Have Two or Three Alternate Sets of Travel Dates
Unless your days are directed by an event that cannot be changed, such as a sporting match or conference, consider having two or three sets of proposed travel dates to give your Groople group hotel-reservations experts, to pair you with the best possible deals.
Consider the Overall Value of Your Group Reservation
When deciding between various group-hotel options, look into the total value of the hotel reservation. Perks like free Internet, free bus parking, and free breakfast can help you extend your budget even further. Don't pick the most economical hotel; instead, pick the one that offers your school group the most value for their dollar. When making these decisions, make certain the value-add amenities are things your group truly needs and would otherwise purchase separately. For example, a hotel with a free Manager's Reception is only a value if your student group plans to be on property during the allotted hours.
Check-In and Check-Out Times Matter
Negotiating or selecting a check-in and out time that works around your event can mean the difference between having to pay for extra lodging days and having extra money to focus on activities that can enhance the group's overall experience. A Groople group-travel professional can help you find a hotel that is willing to work around your schedule by giving you an early check-in or a late check-out. Just tell us more about your plans, and we will do what it takes to help you book hotel rooms with a hotel that goes above and beyond to make your experience cost efficient and memorable.
Plan Rooming Lists and Find Room Configurations That Work for Your Students
Having a hotel expert by your side can help you identify and locate hotels with bed configurations that offer more value for your money. Some hotels offer family suites with bunk beds, trundles, and free rollaways, allowing you to accommodate more students in each hotel room, thus lowering your overall lodging costs. Let Groople do the hard work by finding the best room arrangements for your school trip.
Pick a Hotel with Integrated Activities
Many hotels have extras that will keep your group busy for hours. Ask your Groople hotel expert to point out properties with amenities like water parks, mini golf, on-location cinema, and other activities that can add value to their travel experience without adding cost to the school trip.
How Do You Select the Best Times to Travel with a School Group?
When you are heading to an event with a pre-set date, you may not have much option when it comes to selecting the times and dates for your school trip. However, if your school group is flexible and their trip is more about adventure, learning, and discovery, then you need to have the right partner by your side to help you find the most affordable dates. Many popular hotel destinations like New York, Chicago, San Francisco, Washington, DC, or Orlando are also homes to conventions and other business gatherings that affect the price and availability of rooms for your group. A group-lodging professional has access to calendars with comprehensive lists of dates that may affect the price of your trip. Let them use this knowledge to your advantage, and have them recommend a set of dates when there are sufficient hotel rooms at an affordable price.
Consider Traveling Overnight
If you want to have a whole day of leisure and learning without having to pay for lodging, then consider traveling overnight for an early arrival to your city of choice. Many of our hotel partners will provide you with luggage storage and even parking for your bus or shuttle, to make things easier for everyone involved. Shaving off one night of lodging can save a school group thousands, and give you extra time to spend doing the things you really want to do.
Look for Transitional Dates Between High and Low Season
The very first days of low season can often be grabbed at a bargain, without having to compromise on things like weather. If you are heading to a destination with extreme cold or heat, then look into the very first or very last days of low season to get the best possible deals and still enjoy outdoor activities. Groople hotel professionals can help you pinpoint transitional dates to maximize your purchasing power and get you a great price on your group-hotel stay.
Make Every Penny Count by Saving Beyond Your Hotel Stay
Our travel and hotel professionals know the way to get the most for every dollar you have allocated to your school trip. If you are ready to go the extra mile and make every dollar count, then take note. These smart tips will help you get the most for your money and ensure everyone gets the best possible experience every step of the way.
Visit Museums on Their Free Day
Hundreds of museums around the country offer free or highly discounted admission fees at least one day per month. If your educational trip includes visits to popular museums, then consider aligning your travel dates to match the museums' free-admission dates.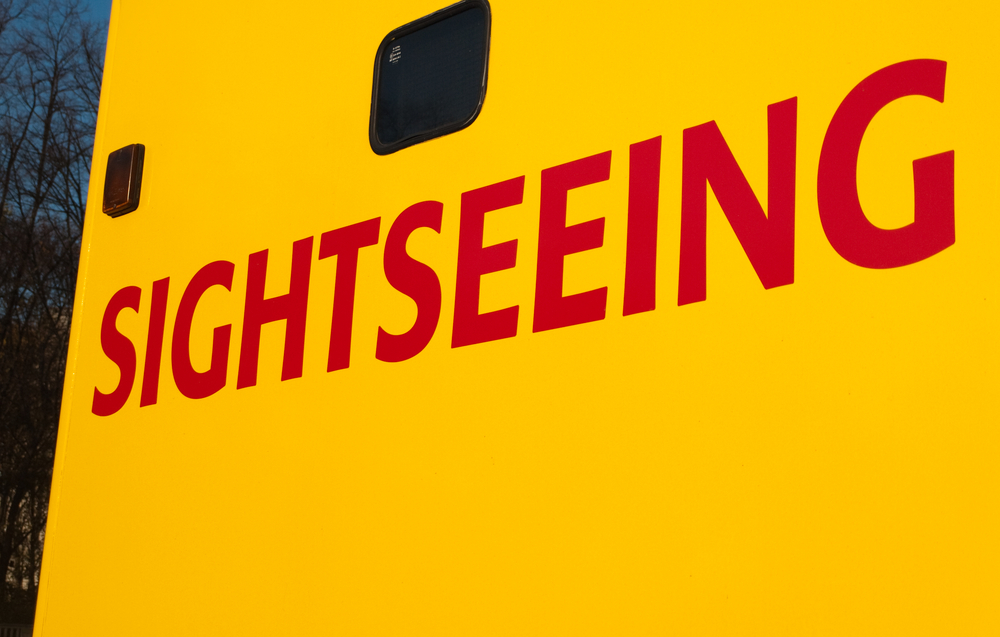 Make Brunch a Meal and Save One Food Stop
If your hotel of choice does not offer complimentary breakfast, then consider coordinating a brunch at a local restaurant. By having a hearty brunch, your group can save the time and money associated with having both breakfast and lunch, and the students will have the opportunity to explore a culinary experience that may not be common at home.
Bring a Large Ice Chest Along
Beverages and snacks can be pricey when purchased at local attractions like amusement parks or museum cafes. Luckily for you, many venues offer the option to bring your own beverages as long as you stick to plastic containers. Check the policies for your destination of choice, and consider bringing along bottled water, snacks, and other refreshments to further reduce the cost of your student trip.
Look for a Local Guide and Concierge
Most mistakes are made for lack of insider's knowledge. Investing a little on a local professional to help you connect with the best and most affordable businesses in town saving you both time and money. A specialized local concierge can leverage their contact network and set you up for success. Large group restaurant reservations, private guided tours, and other perks will become a reality when working with a concierge. If your student group is arriving by plane your local concierge will be able to arrange for bus transportation throughout your stay.  Our trusted partner, e-destinACCESS, is ready to take over and deal with the details to help you focus on delivering the best and safest experience for your kids. e-destinACCESS specializes in seamless delivery, with local experts that will take care of every detail from last-minute event revisions to generating manifests and handling luggage on location. Take a look at all their services here or connect directly via email at groople@e-destinaccess.com.
Dollar Menus Can Help You Get More
Youngsters love fast food. If your group is making a stop for a quick meal enroute to your final destination, then consider purchasing in bulk from the dollar menu available at multiple fast-food restaurants. Using this option will streamline and expedite your order, and can save you up to 30 percent on the total food bill for that meal.
Give the Kids Packing Lists for Carry-On Only
This is a particularly smart move if you are traveling by air. Using carry-on luggage only can save you about $50 per kid and give you a more expeditious arrival and departure. Simple packing can also help when it comes to space management when traveling by bus or van. With a little guidance and a friendly list, you can be well on your way to savings and convenience by carrying less and packaging items that are useful and versatile.
Where to Go: These Are the Top Destinations for School Groups
---
If you are at the planning stages of your school trip and you happen to have flexibility as far as the destination of choice, then Groople may be able to help you find the deal of a lifetime. On the other hand, if you already have plans to head to your destination of choice, then we will make sure we find the best possible deal. That is our commitment to you. Now, let's look at the most popular destinations for student trips in the U.S.
Orlando, Florida
Whether your school group is heading to Orlando to enjoy the amusement parks or to participate in a sports meet, competition, or convention, you will find Orlando to be one of the best places when it comes to getting great hotel deals. Orlando hotels know what it takes to cater to children, teenagers, and young adults. There are endless hotels to choose from, with many offering just the right type of amenities to make your school trip affordable. When selecting the best hotel deals in Orlando, your Groople agent may point you to hotels in Kissimmee, Lake Buena Vista, or Celebration, FL. Orlando is often home to events like the National Cheerleading High School Championship, Academic Decathlon Nationals, and many other events where finding the perfect hotel at the right price requires expertise and proper planning.
---
San Antonio, TX
San Antonio is a favorite destination for elementary school-aged children. Visiting The Alamo and other historical sites is a must for fifth and sixth graders. Finding the perfect hotel for your school group may require more than just a simple search. San Antonio is a large city, with many neighborhoods offering very distinct experiences, and placing hotel guests in close proximity to some attractions but a good drive away from others. It is also important to keep in mind that many hotels close to the River Walk have limited parking options for buses and vans, and often charge for nightly parking. A hotel-reservations professional from Groople, in partnership with a local concierge, will ensure your hotel is not only affordable but also convenient to the places your group plans to visit.
---
Washington, DC
Washington is the ultimate destination for school travel. With good planning and committed chaperones, young travelers will have the experience of a lifetime. Affordable hotels in Washington, DC, may not be easy to find. Groople professionals will help you locate a hotel within your budget, with features that make sense, such as connecting rooms or easy access to public transportation. Discovering the nation's treasures can be made affordable by planning ahead and having insider's knowledge of all the great deals available for school groups. You can learn more about great activities for groups in DC here.
---
New York City
Visiting New York City is a dream come true for youngsters who appreciate art and music. Many Broadway shows offer student and group discounts to help young travelers have early exposure to musical culture. Contrary to popular belief, many city museums can be accessed by visitors for free or at a discounted rate. Let us show you the best museum deals for groups visiting New York City. Finding an affordable hotel in a safe location, accessible to popular attractions or public transportation, is not a task for beginners. The team at Groople will help your group negotiate the best possible hotel rate in New York, and help you secure a room block that makes managing your group a breeze. Take a look at the best tips for groups traveling to New York City.
---
Dallas, TX
Dallas continues to grow exponentially, and it has become home to a variety of national events for young students. If your group is heading to the DFW area, then Groople can help you find the most affordable hotels for groups in Dallas. Our hotel professionals will locate hotels that put you right in the heart of the action, and make transferring students to conventions and other gatherings simple, safe, and affordable. The DFW area is comprised of many cities and suburbs, making it indispensable to have a knowledgeable partner, in order to find a great hotel that exceeds the needs of your student group.
---
Atlanta, GA
Atlanta is full of history, making it a perfect destination for student trips. Because Atlanta is a hub for many important airlines, student groups can often find great deals in air travel. Hotels in the suburbs and within reasonable distance to the most desirable attractions can be found for great prices, and they often offer very good discounts for student groups. The team at Groople can help you get excellent deals by guiding you through the most affordable and safe options, and helping you plan your trip so it won't fall during a high-demand period.
---
San Diego, CA
A trip to one of the best-ranked zoos in the world is a must for many schools wanting to introduce their children to concepts related to conservation and stewardship. San Diego is a high-demand city that receives visitors from all over the world year-round. Finding a discounted hotel for groups can prove challenging, as there is no such thing as low season. However, Groople has forged partnerships with great San Diego hotels that will result in significant savings and ease in booking your next hotel stay.
---
If you are looking for a guide to plan your student group trip, then just submit your info in the contact form below, and we will email you a link to download our easy-to-use checklist and guide. With it, you can make certain that no detail goes amiss. If you need us to start helping you locate the best hotel for your student group, then don't hesitate to give us a call. We are known to get incredible prices and provide customer service at the level your group deserves. You can reach us by dialing (844)476-6753, or by searching for your hotels and submitting a preliminary booking quote.